Below you will see our residential snow removal pricing breakdown. We are partnered with YARDLY to bring our customers exceptional customer service and convenient affordable pricing options. We are confident you will be 100% satisfied with your snow removal this year!
Additional Service Areas Can Be Found Below: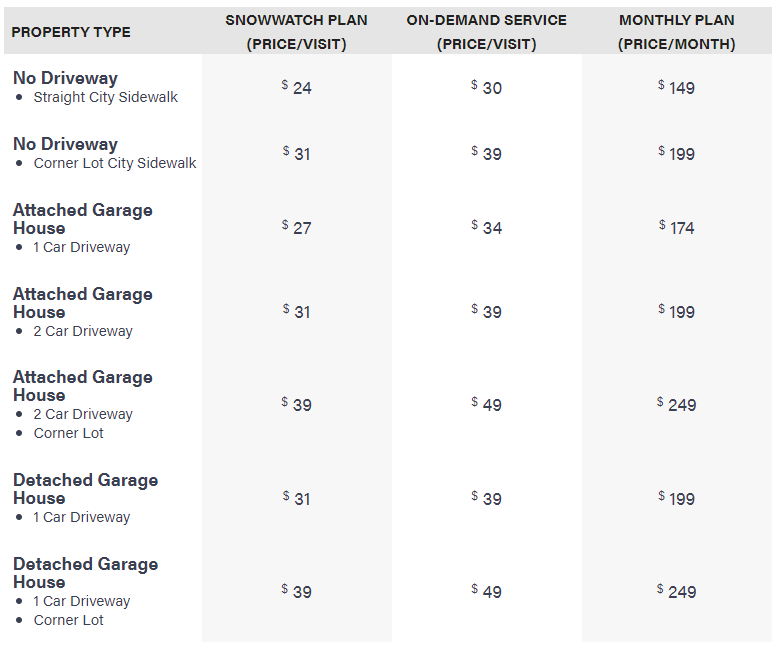 Plan Details And Place An Order:
For details about our snow removal plans or to order a plan simply click any of the blue bars and an order form will drop down with more details.
We offer a pay-per-month continuous service where customers pay a flat rate at the beginning of each month. This includes endless snow elimination whenever snow falls in excess of 1 cm. As always your snow will be removed within 24-hours after snowfall ends. Our month-to-month plan is just that, with no long term contracts to lock you in and you are free to cancel anytime.
A consistent service strategy where customers pay per snow removal visit to their property. Snow is cleared within 24-hours after snowfall ends, whenever it falls in excess of 1 cm. You can freely choose a start date or an end date for the service. As always with our SnowWatch Plan if it doesn't snow you don't pay.
Our On Demand Service is a one-time service that our customers order when they are either in an emergency or simply need a quick one time snow removal done. You can order where you desire, when you want, and the snow cleaning will be completed by an Independent Provider within 24 hours!
Snow Removal Service Plans Overview:
What's Included In Your Plan
Each plan includes professional snow clearing of all fresh snowfall for the areas specified in your snow removal plan.**
Hard packed snow clearing from all areas specified  in your snow removal plan.** (surcharges may apply for On Demand service)
Application of ice melt, if it is ordered as part of your snow removal plan.**
** Typical clearing areas include: city sidewalk, front walkway & stairs, driveway, and side & backyard walkway for detached garage houses.
What's NOT Included In Your Plan
Snowfall under 1cm, sleet, freezing rain, drifting snow, or flash freezing events. If you are interested in services under these conditions, please ask us about our Premium Service.
Chipping and removal of ice build-up is not included in normal service visits and will be charged at an hourly rate of $60/hour if you request Ice Removal.
Disclaimer:
Please note that opting out of Ice Control via Ice Melt increases the risk of slips and falls due to ice on your property. By not purchasing Ice Melt to control ice on your property you waive all legal right and assume full liability and responsibility for incidents caused by ice left on your property.
For Cancellation and Surcharge Policy descriptions please see our a detailed breakdown on our partners website yardly.ca